Protective Cases for Restaurants and Drive-Thrus
Tablets and mobile payment devices continue to popularize as quick and convenient ways for restaurants to increase efficiency and productivity, and therefore, profit. But these devices can be expensive, so they need to be protected. Mighty Pouch has come up with creative solutions for restaurants and drive-thrus to keep their tablets and points-of-sale secured but easily accessible.
Standard Pouches
These standard pouches are what we feature on our site. Simply choose a pouch, select your device brand and model or enter dimensions, and choose the custom options you need.
Tablet Belt Case
Tablet Pouch
POS Quick Holster
The Tablet Belt Case is intended to be worn on a personal belt or with our removable waist strap. Attachment methods include a belt loop, super buckle, metal belt clip, or sewn waist strap. The Tablet Belt Case is made with cushioned neoprene on the front and nylon with an internal layer of foam on the back. We offer several closure methods such as a VELCRO flap, a magnet flap, a bungee with VELCRO, or no flap/bungee.

Build your Tablet Belt Case here.

Our Tablet Pouch was specifically designed for wait staff at restaurants, delivery drivers, and drive-thru employees. This pouch is entirely constructed of nylon with an internal layer of foam for extra protection. It is intended to be worn around the waist to keep your device close at hand. We also offer a convertible package that allows you to wear the case over your shoulder. The loose fit allows you to retrieve and replace the device quickly and safely. You can select a VELCRO or magnetic flap for extra security, or choose the "no flap" option for quickest access to your tablet.

Build your Tablet Pouch here.

As its name suggests, the quick holster is built with an extra 1/4″ of depth, making retrieving and replacing your device quick and easy. The front of this pouch is built with cushioned neoprene, and the back is made of nylon with an internal layer of foam. The quick holster is available with several closure methods. Choose a bungee with VELCRO, a magnetic flap, a VELCRO flap, or no flap/bungee. We also offer multiple attachment methods such as a belt loop, metal belt clip, super buckle, or a sewn-waist strap. Optional carry methods include a removable waist strap or shoulder strap.

Build your POS Quick Holster here.
Custom Cases
If our standard featured cases aren't what you're looking for, we can create a 100% custom case with your specific needs. Here's an example.
After breaking many tablets, a restaurant contacted us needing a large rollout of especially protective tablet cases which would be used in drive-thrus to make service more efficient. This restaurant requested waist and shoulder straps, reflective webbing for employee safety, pockets for straws, and webbing loops as optional menu holders. We designed a case out of nylon with a layer of internal foam to cushion the device. We also added a sheet of ABS plastic to protect the tablet's screen from any impact. We left the case open at the top to allow users to easily retrieve and replace the tablet. To secure the tablet in case it might fall out of the pouch, we created a tether buckle securing at the top to one of the case's D-rings while looping through the tablet at the bottom. As optional carry methods, we sewed a removable shoulder strap with a neck cushion for comfort and a removable waist strap. These were made of reflective webbing for employee safety.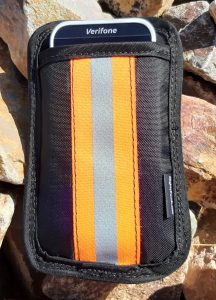 We also created a separate pouch for a mobile Verifone POS. This pouch is made from nylon with an internal layer of foam and attaches to a belt using a super buckle. We also added a small piece of orange reflective to the front for employee safety.
This is just a sample of one of the custom cases we have built. We can create a 100% custom case for your restaurant or drive-thru as well.
Mighty Pouch Benefits
We can add your business's logo!
Our machines press your logo to the front of the case using a heat-transfer method.
If you're considering ordering a large rollout of cases but are still unsure about the design, we can build a prototype. Contact us today to request a prototype.
Free shipping on US orders of $100.00 or more.
This offer does NOT apply to international shipments.
10% off orders of 100-200 cases.
For orders of over 200 cases, contact us for a special quote.
Need more information? Contact us to get started with your custom restaurant tablet case.