While the cost of a tablet integration project can add up, the productivity returns can be significant. At Mighty Pouch we manufacture quality cases to help your employees store and quickly access their devices. We offer our standard custom cases or a completely custom case with your branding, point of sale (POS) solutions, and safety features such as reflective webbing. Best of all, we have no minimum or maximum order requirements. Order as few or as many cases as you need.
When implementing a project here are some things you should consider:
How often will the tablet be accessed?
| | | |
| --- | --- | --- |
| | | |
| 1-5 times an hour, 8-40 times a day | 3-5 times an hour, 24-40 times a day | 5-10 times an hour, 40-80+ times a day |
| Our custom Tablet Belt Case may be the perfect solution for those wanting to keep their device handy but not expecting to use it too frequently. Easily carry a tablet on a personal belt, or add a removable waist strap. Select portrait or landscape orientation. Add a flap to secure the device when not in use. Add optional accessories such as shoulder straps, pockets, and elastic holders for pens and Sharpies. | The most popular selection for businesses, our Quick Holster has an extra 1/4″ of depth. This allows users to quickly remove and store their devices. The standard VELCRO & bungee closure system secures the tablet when needed. However, heavy users typically fold back the VELCRO and only use the closure when removing the case, when getting in and out of vehicles, etc. The Quick Holster is also completely customizable. Select portrait or landscape orientation, choose an attachment method such as metal belt clip or super buckles, and add optional accessories such as pockets and removable straps. | The Tab Pouch was specifically designed for heavy users such as wait staff at restaurants, delivery drivers, home inspectors, and others. This case is built so that you can slip your entire hand inside to securely grab the tablet before it can be dropped. The loose fit also allows you to quickly position the tablet over the pouch and simply drop it back inside. The Tab Pouch is generally worn around the waist, but it can also be ordered as a convertible package worn both around the waist and over the shoulder. |
Who is your typical user?
| | |
| --- | --- |
| | |
| Employee Wearing a Belt | Employee Not Wearing a Belt |
| We recommend choosing a super buckle or metal belt clip. This will allow the user to attach the case to his or her personal belt. | We offer a removable waist and shoulder straps, or a sewn waist strap, depending on the user's needs. Each strap adjusts to fit any body size. |
Do you need any accessories?
| | |
| --- | --- |
| | |
| Pockets | Elastic for Pens, Sharpies, etc. |
| We have several pocket options. A flat front pocket can store thin items like paperwork or business cards. The inside pocket can hold an employee ID badge. Finally, a back pocket can hold larger items such as chargers, a computer mouse, and much more. | We can add elastic holders to your tablet case to store pens, sharpies, or other items of similar size/shape. |
Would you like to add your company's logo?

Add Your Company's Logo
Adding a logo can improve presentation to customers by giving a more professional look. We can add logos to ANY case design. You determine the size and placement of your logo. If you're interested in adding your business logo to your custom case, contact us today for a quote.
Do you need your pouch to match your company's logo/branding?
| | | | | | | | | |
| --- | --- | --- | --- | --- | --- | --- | --- | --- |
| | | | | | | | | |
| Black | Forest Green | Royal Blue | Red | Purple | Gray | Pink | Navy | |
Our custom neoprene tablet pouches are available in several colors. You may wish to match your neoprene tablet case to your company's branding colors.
If you're considering placing a large order of tablet cases, contact us today, and we can give you a quote.
We also do custom! We can create a unique case specifically suited for your needs.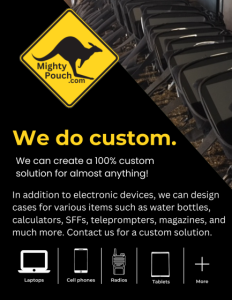 Prototypes are also available upon request. Inquire today!