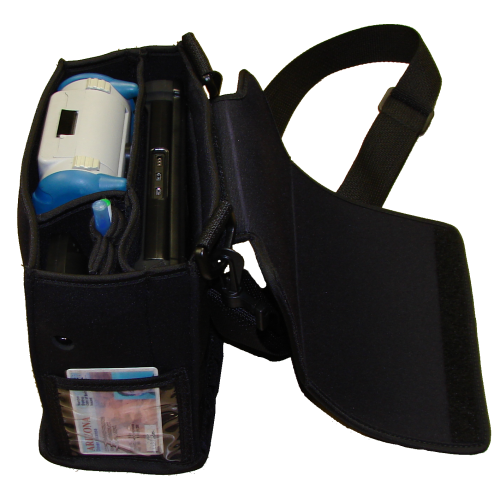 Due to confidentiality purposes the clients name will not be disclosed.
A customer came to us with a need for a protective case that could facilitate three devices for field technicians to carry conveniently. The devices that needed to be with the technicians were a Blackberry Playbook, a Blackberry phone with a card scanner, and a thermal receipt printer. The wanted the devices protected but together and in a convenient area for the individual utilizing it. Additional requirements were the ability to charge the devices inside the case, to be able to have the thermal printer print while in the case, a place for writing utensils, and a clear slot for an ID badge.
Mighty Pouch's Solution
After going through a few prototypes and design ideas we finally came up with something that worked perfectly for the customer. We constructed the case completely out of neoprene with punches for the receipt printer and power ports. We were able to conveniently fit all the devices into the case with dividers. This protected all the devices from the abuses they would incur in the field. The customer wanted the addition of a flap to secure the items in the pouch and protect the devices from the outdoor elements. After meeting all the requirements of the customer we had a finished product that allowed for the technician to wear the pouch over their shoulder like a satchel or on their belt. The customer was very please with the product as well as the improved efficiency the pouch created by not having to travel back and forth to the truck to obtain the devices.